I am lucky to have a hubby like Big J. Love you very much, my darling!
He may not be the perfect hubby that I dreamt for, but he is loving, kind-hearted and wise man that I have ever known. When he has chance (and money of course) he will remember to get me gifts and bring us for dinners on those special dates like my birthday, Valentine's Day, wedding anniversary and Christmas.
This year would be different; being the case of me not working since March. We are cutting down on our budget and that include gifts. I understand that he wouldn't be giving me those nice gifts during those dates but am happy that he loves and cares for me after married for 5 years. How time flies. I still can remember that day we signed our name at the marriage registrar department with 3 friends being our witnesses. *smile*
5 years seems like a short time compared to some friends that married for more than 5 years, but we do shared "ups" and "downs" of marriage life. We have been through bittersweet journey; hanging to each other for support and understanding. I am just lucky to have Big J there during my hard times when I felt that life has no colours anymore. Thank you darling for been there for me!!
Happy 5th Anniversary! And it is coincident that today is also my SIL's birthday! So wishing her Happy Birthday!!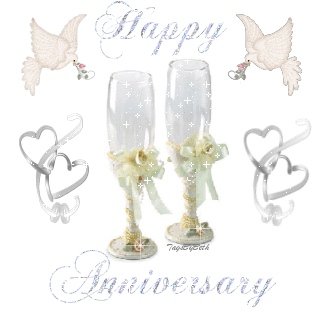 glitter-graphics.com